2009 Laureate
Reverend Alger, nominated by Saundra Sanderson, served for nearly thirty years as Executive Director of Associated Ministries. In his ecumenical work, Rev. Alger helped bring different faith groups together to build a community that is humane, compassionate and just.
He was instrumental in the founding and growth of many agencies that help to build such a community, including (among others)
the Pierce County AIDS Foundation,
the Indochinese Culture and Service Center,
the Shalom Center (focusing on Central American and Middle Eastern Peace),
the South Sound Peace and Justice Center,
the Pierce County Dispute Resolution Center,
Faith Partners Against Family Violence,
the Moments of Blessing program (services held to reclaim places where homicides have occurred), and
the Hilltop Action Coalition.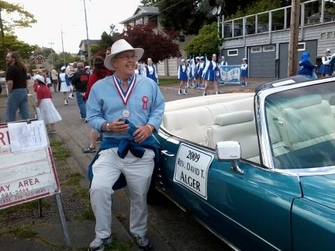 Read an article about Rev. Alger by clicking here.  And click here to read David and Sally Alger's account of their trip to Oslo, Norway, in December of 2009.
Learn more about Rev Alger in his video Laureate Spotlight: