2010 Laureate
Kim Ebert-Colella came to Tacoma as a Jesuit Volunteer and has continued to do peace work in all areas of her life. She volunteers at Bryant Montessori School, a racially and economically diverse school in the Hilltop area of Tacoma. She established Bryant as an International Peace Site in 2009.
Ms. Ebert-Colella established and continues to chair the Peace Committee at Bryant. The Committee, in partnership with "Pierce County Reads," raised $9,000 in 2008 to send to "Pennies for Peace," an organization which builds schools in remote regions of Pakistan and Afghanistan.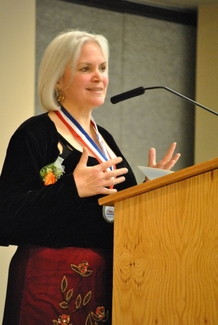 Each year, Kim helps the students at Bryant choose a peace-related theme for the year. In 2009-2010 the theme was: "Water: Peace in Every Drop." Partnered with NorwexTrue Clean (which originated in Norway), the students conserved water in their school by procuring rain barrels, which were decorated and installed around the school. Classes went on field trips to the Puget Creek watershed to learn the connection between sewer, ground water, and Puget Sound. They provided opportunities for all the students in the school to learn about the impact of our storm drains on our watersheds and the salmon population
Another goal of the Peace Committee in 2009-2010 was to raise $6,000 for the ETTA Project, which helped a poor village in Bolivia start a community garden and get running water to homes and the school in order to improve health. The garden provides the children of the village with fresh vegetables to augment their meager daily diet.
Kim's deep passion for helping people has taken her all over the world. Through the high school youth ministries at her church, St. Nicholas in Gig Harbor, WA, she traveled to the barrios of Tijuana, Mexico. She ministered to both the elderly and teens as a Jesuit Volunteer; traveled alone to Calcutta because she had always wanted to meet and work with Mother Teresa; joined a delegation of women who traveled to South Africa; and worked in Hospice centers and homes in multiple villages to fight the AIDS crisis.
Kim received her B.A. in liberal studies, with a minor in psychology, from the College of St. Benedict and earned a Master's Degree in pastoral studies from Seattle University. She makes her home in Tacoma, Washington, with her husband Niko and son Sam.
"Kim brings peace to the kids she works with by helping them reflect on their own ability to be peaceful, within themselves and with others. She encourages them to think and act both locally and globally." (Wynne Brown, Nominator)
Learn more about Kim in our video Laureate Spotlight: