2014 Laureates
Nominated by William Lincoln, Norm Dicks, and Clare Petrich, Dawn Olson Lucien and her son Eric Olson have served our local community and our nation for over forty years, seeking in their respective careers community and international peace.
Dawn Lucien has merged the spirit and skills of advocate and conciliator – always civil, transparent, influential, and effective. In many ways she has been the conscience of the community. As district manager for Congressman Norm Dicks, she played a key role in the 1990 Puyallup Indian Land and Jurisdictional Claims settlement. In the mid-1980s, she was instrumental in bringing together the federal government, the Puyallup Tribe, the Port of Tacoma, the City of Tacoma and numerous local municipalities and private partners. In retirement Dawn maintains strong relationships with all parties and is an informal and meaningful advisor. She remains an advocate for the Pierce County Center for Dispute Resolution; she has been a tireless contributor to community-based efforts to develop a first-class graduate degree program in dispute prevention, management, and resolution at the University of Washington – Tacoma.
Eric Olson, Dawn's son, is a 1969 graduate of Stadium High School and a 1973 graduate of the US Naval Academy. In a career of over 35 years, he rose to the rank of Admiral, the first Navy SEAL to be promoted to the four-star rank, and ultimately served as the leader of the United States Special Operations Command (USSOC). Twice decorated for personal valor in combat, Admiral Olson advocates for the "deeper understanding of the context of any conflict as a means to predict the effects of our actions" and he has been widely quoted for his statement that "we cannot kill our way to victory in today's wars, so we must think our way to success." Retired in 2011, Admiral Olson remains a thoughtful leader for a more balanced military force, one that considers linguistic and cultural expertise as essential. In 2012, as keynote speaker at Portland District Rotary 's "Peace Is Possible" conference, he reminded listeners: "Going to war is a political decision, not a military decision." He currently teaches a graduate course at Columbia University focusing on the challenges of "turning down the heat" in a time of global friction.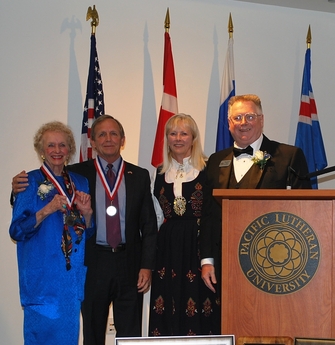 Together, Dawn Lucien and Eric Olson have been formidable advocates for nonviolent solutions to difficult conflicts. It is our honor to recognize these lifelong Tacomans as the 2014 Greater Tacoma Peace Prize laureates.
Learn more about Admiral Olsen on his video Laureate Spotlight: