Join Hands to Support Volodymyr Bieloshytskyi and His Family Amidst Challenging Circumstances
We invite you to be part of an incredible journey of resilience and compassion as we rally together to support Volodymyr Bieloshytskyi, his wife Tatiana, and their young daughter Aviheia. This courageous family, hailing from the Odessa region in Ukraine, has overcome immense challenges and now seeks our assistance to rebuild their lives in Tacoma, far away from the conflict that shattered their homeland.
A Life of Dedication:
Volodymyr Bieloshytskyi's lifelong commitment to his family and his esteemed career as a certified sailor for international companies exemplify his unwavering dedication. Born and raised in the town of Izmail, he embodied the values of hard work, integrity, and compassion that guided him throughout his life.
In February, when war unexpectedly erupted, Volodymyr immediately abandoned his planned trip to be by his family's side. He fearlessly navigated the dangers of their heavily targeted hometown, ensuring Tatiana and Aviheia's safety as they escaped the violence that engulfed their community. Volodymyr's unwavering presence amidst perilous situations saved countless lives as he spearheaded the evacuation efforts for those trapped in the occupied territories.
Volodymyr's moral compass, deeply rooted in his strong religious beliefs, propelled him to remain steadfast in his principles. Despite the imminent danger surrounding him, he chose a path of non-violence, refusing to use weapons even when faced with grave threats. His unwavering faith and moral strength serve as a testament to the resilience of the human spirit.
A New Chapter:
Now residing in Tacoma, Volodymyr, Tatiana their three-year-old daughter and unborn child face the daunting task of starting afresh in a foreign land. As they endeavor to settle down and rebuild their lives, they require our collective support to meet their basic needs and secure a stable future for their growing family.
Your Support Matters:
By contributing to this fundraising campaign, you can play a vital role in helping the Bieloshytskyi family regain their footing. Your generous donations will provide them with the essential resources they need to establish a new home, access healthcare for Tatiana's pregnancy, and ensure their kids well-being. Together, we can help alleviate their immediate financial burdens and provide a solid foundation for a brighter future. 
Let Us Stand United:
In the face of adversity, it is the kindness and compassion of individuals like yourself that provide hope and inspire change. By joining hands, we can make a tangible difference in the lives of the Bieloshytskyi family, allowing them to embark on a new chapter with the support and stability they deserve. Together, let us rally around Volodymyr, Tatiana, and Aviheia, demonstrating the power of collective support in creating a brighter future.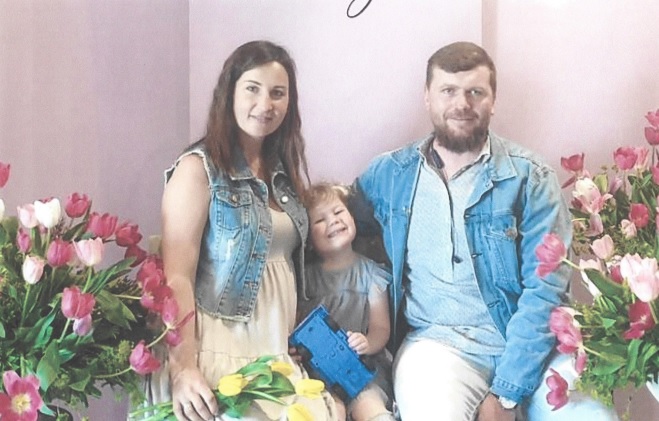 Help our new neighbors by donating via the button below:
(100% of your donation will go to the family, and we will post the distributions on our site in the future)