The purpose of this project is to recognize and encourage peacemakers in the greater Tacoma area through the manufacture and installment of a "Peace Bench" — a TANGIBLE symbol of dialog and diplomacy, a place where people can meet, connect, and communicate with each other. The Peace Bench will be situated in a peaceful serene location alongside the shores of Puget Sound in Tacoma, Washington (the Waterwalk at Point Ruston), and it will be dedicated in honor of and in memory of internationally known peacemaker, mediator, negotiator, trainer, conflict resolution guide, and long-time Tacoma resident William F. Lincoln.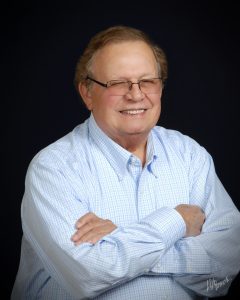 Bill Lincoln was the 2006 Greater Tacoma Peace Prize Laureate, and he had been a member of the GTPP Board of Directors from 2015 until his unexpected death in March of 2020. Bill knew that peace begins with talking; "Let's have a chat" was one of his standard opening lines to bring people of diverse and divergent opinions together. As Nelson Mandela said, "The best weapon is to sit down and talk." The Peace Bench pays tribute to Bill's efforts to bring people together to talk and make peace, to find effective resolutions for conflict. Widely acclaimed as a practitioner of negotiation and mediation, Bill found himself in diverse, critical, and often highly volatile scenarios involving international, governmental, private, community, and environmental sectors.
Bill loved Tacoma and was extremely proud of the progress the city had made since he arrived in 1984. He enjoyed walks along Ruston Way, and eventually, along the new Waterwalk at Point Ruston. When guests visited, they were treated to a "Sunday Drive" with Bill, during which he inspected and espoused upon the many construction sites at the University of Washington and the Museum District, as well as Ruston Way all the way to and through Point Defiance.
Description of Project
The bench, a "cleat bench", will be manufactured by the Port Townsend Foundry, which uses 35% recycled sand in the manufacture of a line of concrete cleat benches. (See photos of cleat benches below.) This bench style was chosen because of the symbolism of its slightly curved shape and narrow ends, drawing those who sit on it closer together and insinuating that they should sit in the middle.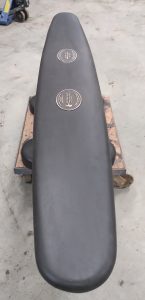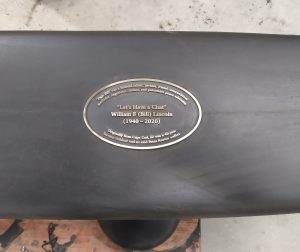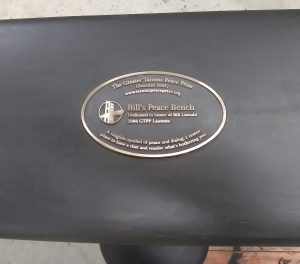 Timeline
The installation and dedication of the bench will take place in the Spring of 2022.
THANK YOU! to Kiwanis Club of Tacoma and to Loren Cohen and the team at Point Ruston (McBride-Cohen Management Group) for their assistance and generosity with this project.
It is the hope of the GTPP that the Peace Bench will be identified as the place to come where one can find not only the inner peace that comes when one has a beautiful quiet place for meditation and reflection, but also the peace that comes when two people "Have a Chat" and work out a knotty problem together.